Regular price
$71.00 USD
Sale price
$50.00 USD
Unit price
per
Sale
Sold out
var product = { id: 6651358675034, title: "Heavy Metals Long Sleeve x White", available: true, handle: "handcrafted-heavy-metals-long-sleeve-x-white", description: "The Heavy Metals longsleeve features classic hand-lettering that outlines the identity of Clocks + Colours. Wear it loud and wear it proud. Each screenprint is hand-pulled in Toronto, Canada. \n100% Cotton. Fits true to size.\n", type: "Tees", tags: ["ALL","Apparel","Clocks and Colours","Clocks and Colours EU","Clothing","LongSleeve","Retail Ossington","Sale"], options_with_values: [{"name":"Size","position":1,"values":["S","M","L","XL","XXL"]}], colors: null, featured_media: { alt: "Heavy Metals Long Sleeve x White", src: "\/\/clocksandcolours.eu\/cdn\/shop\/products\/HeavyMetalsLongSleeve-ClocksandColours-White-02.jpg?v=1636044014" }, url: "\/products\/handcrafted-heavy-metals-long-sleeve-x-white", mf: { } }; var variants = []; var variant = { id: 39600891428954, available: false, options: ["S"], option1: "S", option2: null, option3: null, inventory_quantity: 0, price: 5000, compare_price: 7100, media: { alt: "Heavy Metals Long Sleeve x White", src: "\/\/clocksandcolours.eu\/cdn\/shop\/products\/HeavyMetalsLongSleeve-ClocksandColours-White-02.jpg?v=1636044014" }, mf: { } }; variants.push(variant); var variant = { id: 39600891461722, available: false, options: ["M"], option1: "M", option2: null, option3: null, inventory_quantity: 0, price: 5000, compare_price: 7100, media: { alt: "Heavy Metals Long Sleeve x White", src: "\/\/clocksandcolours.eu\/cdn\/shop\/products\/HeavyMetalsLongSleeve-ClocksandColours-White-02.jpg?v=1636044014" }, mf: { } }; variants.push(variant); var variant = { id: 39600891494490, available: false, options: ["L"], option1: "L", option2: null, option3: null, inventory_quantity: 0, price: 5000, compare_price: 7100, media: { alt: "Heavy Metals Long Sleeve x White", src: "\/\/clocksandcolours.eu\/cdn\/shop\/products\/HeavyMetalsLongSleeve-ClocksandColours-White-02.jpg?v=1636044014" }, mf: { } }; variants.push(variant); var variant = { id: 39600891527258, available: false, options: ["XL"], option1: "XL", option2: null, option3: null, inventory_quantity: 0, price: 5000, compare_price: 7100, media: { alt: "Heavy Metals Long Sleeve x White", src: "\/\/clocksandcolours.eu\/cdn\/shop\/products\/HeavyMetalsLongSleeve-ClocksandColours-White-02.jpg?v=1636044014" }, mf: { } }; variants.push(variant); var variant = { id: 39600891560026, available: true, options: ["XXL"], option1: "XXL", option2: null, option3: null, inventory_quantity: 2, price: 5000, compare_price: 7100, media: { alt: "Heavy Metals Long Sleeve x White", src: "\/\/clocksandcolours.eu\/cdn\/shop\/products\/HeavyMetalsLongSleeve-ClocksandColours-White-02.jpg?v=1636044014" }, mf: { } }; product.currentVariant = variant; variants.push(variant); product.variants = variants;
The Heavy Metals longsleeve features classic hand-lettering that outlines the identity of Clocks + Colours. Wear it loud and wear it proud. Each screenprint is hand-pulled in Toronto, Canada.

100% Cotton. Fits true to size.
All of our apparel products are covered by a Two Year Warranty
Eligible for exchanges. Not eligible for refunds.
View full details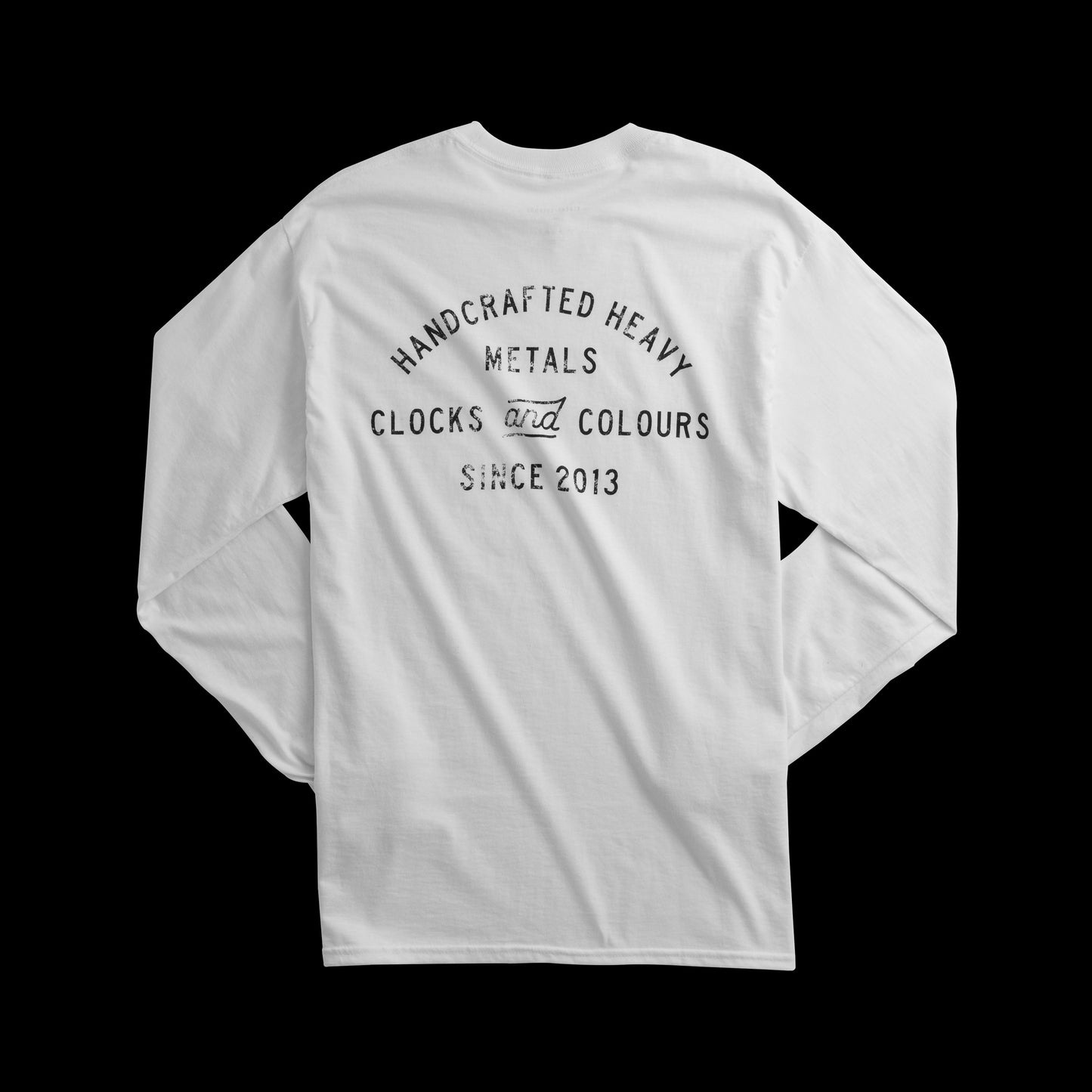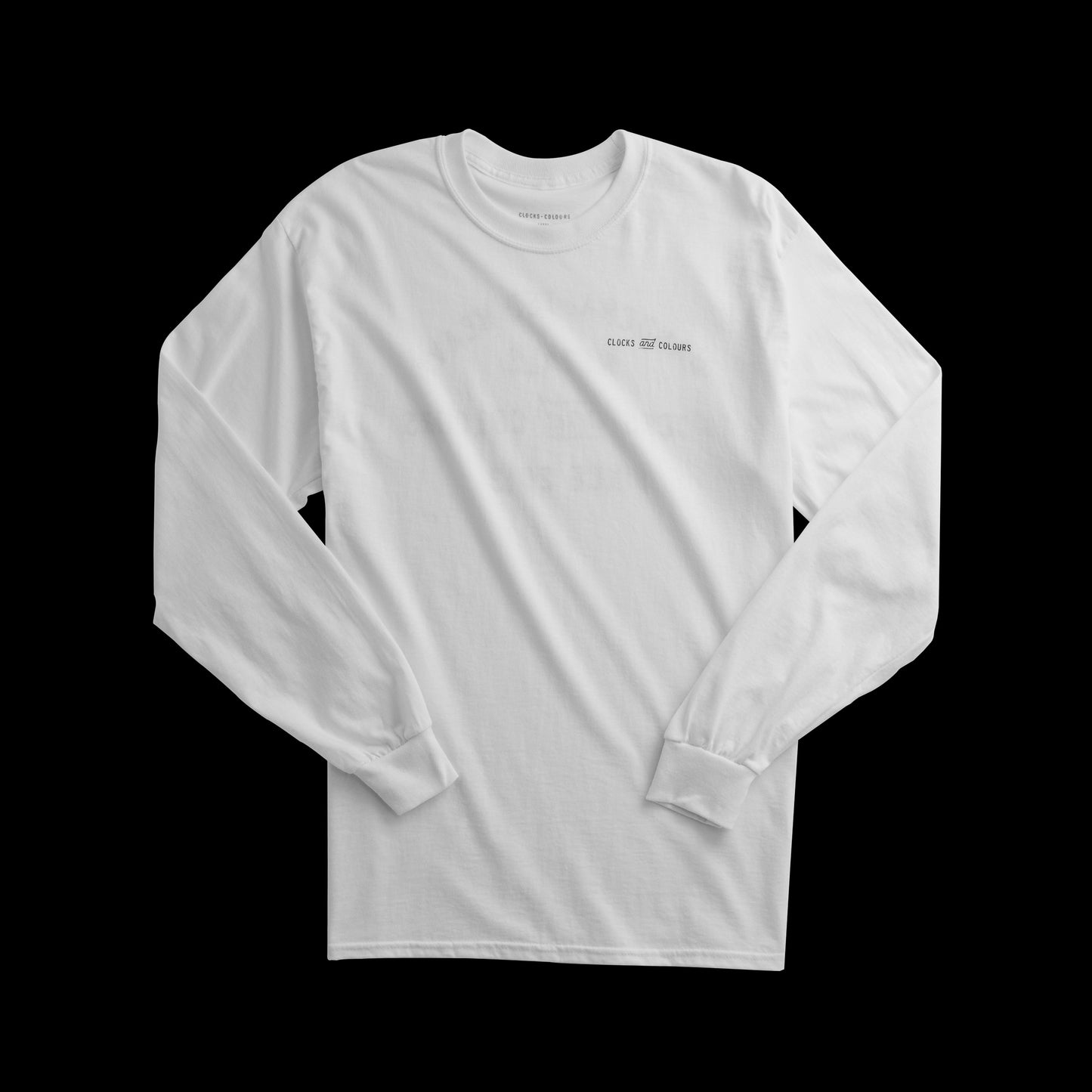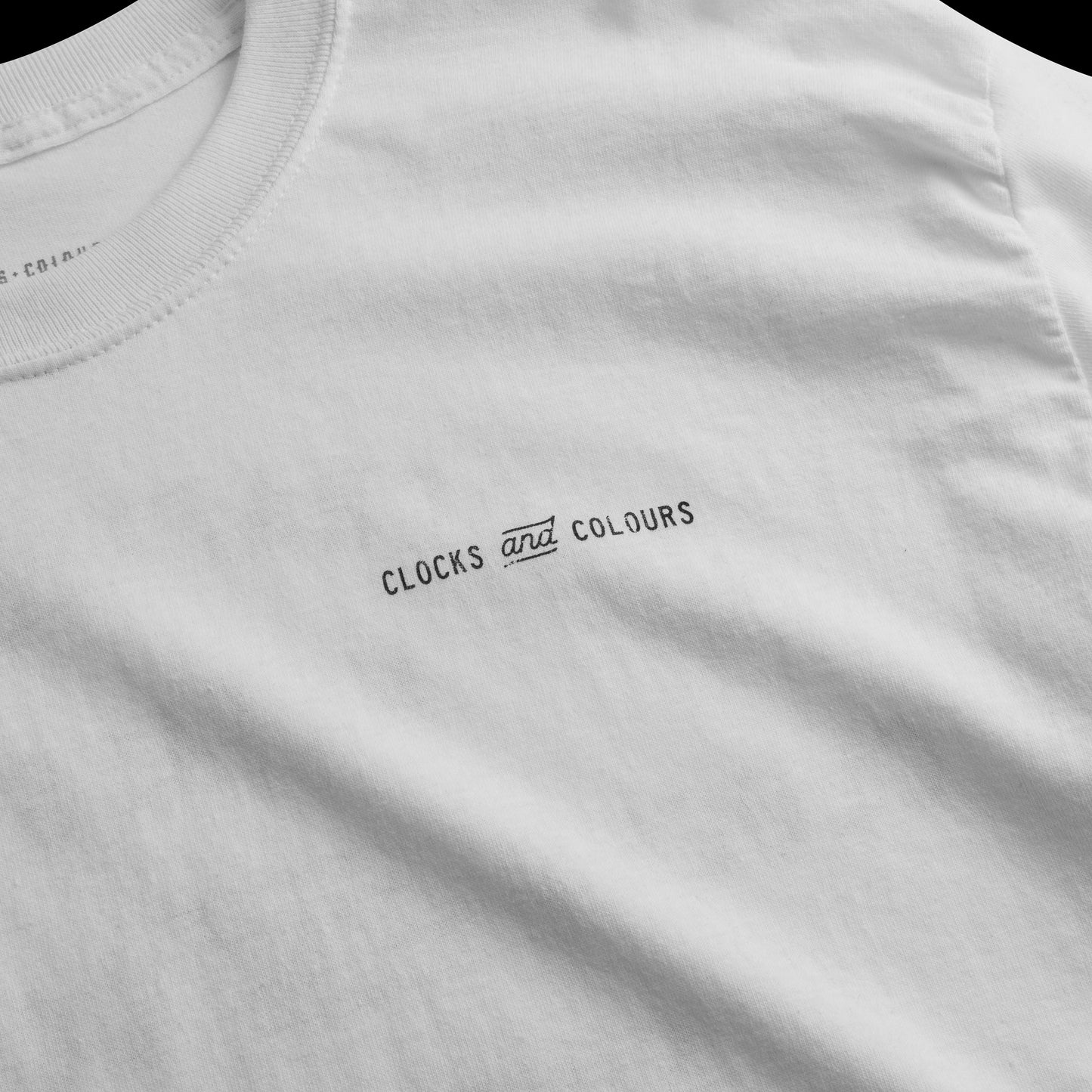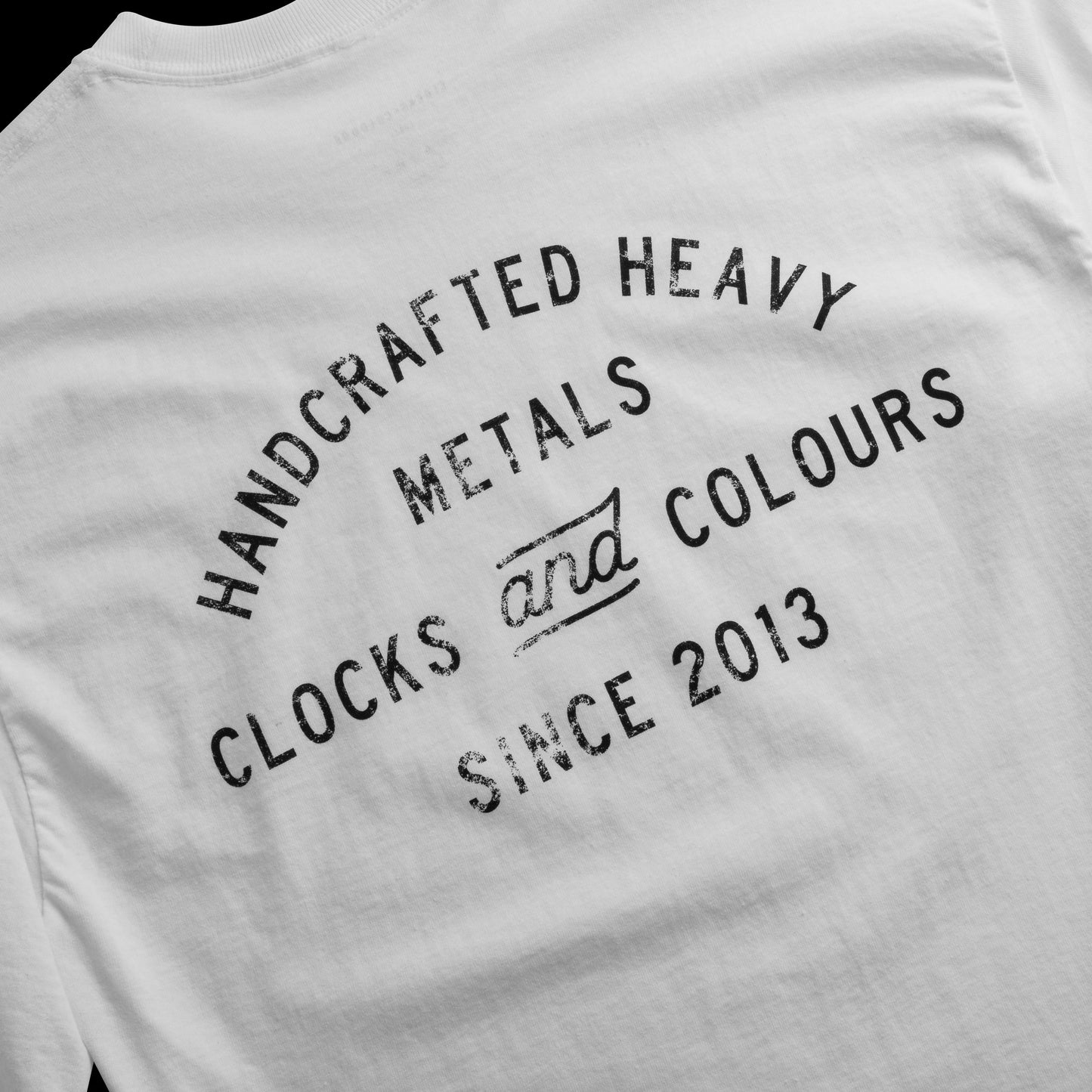 popular this week
Regular price

$180.00 USD

Regular price

Sale price

$180.00 USD

Unit price

per

Regular price

Sale price

$71.00 USD

Unit price

per

Regular price

$315.00 USD

Regular price

$0.00 USD

Sale price

$315.00 USD

Unit price

per

Regular price

$408.00 USD

Regular price

Sale price

$408.00 USD

Unit price

per

Regular price

$185.00 USD

Regular price

Sale price

$185.00 USD

Unit price

per